Stephen Curry keeps himself quite occupied. Although injured, the superstar of the Warriors is still able to fulfill his obligations. Curry makes sure he works hard for a quick return despite his many duties. He has been observed sticking around after practices to perfect his shots.
Despite his hectic schedule, Steph makes time to attend Cameron Brink's Stanford games. She is his godsister. For the previous few years, we frequently witnessed him sitting courtside. Riley and I had the most recent one over All-Star Weekend.
Steph is overjoyed that Cam was recognized as the Pac-12 Player of the Year recently.
Read More: Kyrie Irving Says, "I Take It upon Myself," Owning up To His Part in The Lakers' Avoidable Loss!
Stephen Curry puts up an Instagram story for Cameron Brink
Stephen Curry, a longtime supporter of women's sports, discovered a wonderful role model for his daughters Riley and Ryan when his own god-sister began playing for the Stanford Cardinals. While Steph's girls looked forward to their aunt Sydel Curry-Lee and her volleyball career, they now have the opportunity to see Cam compete against the globe in real-time.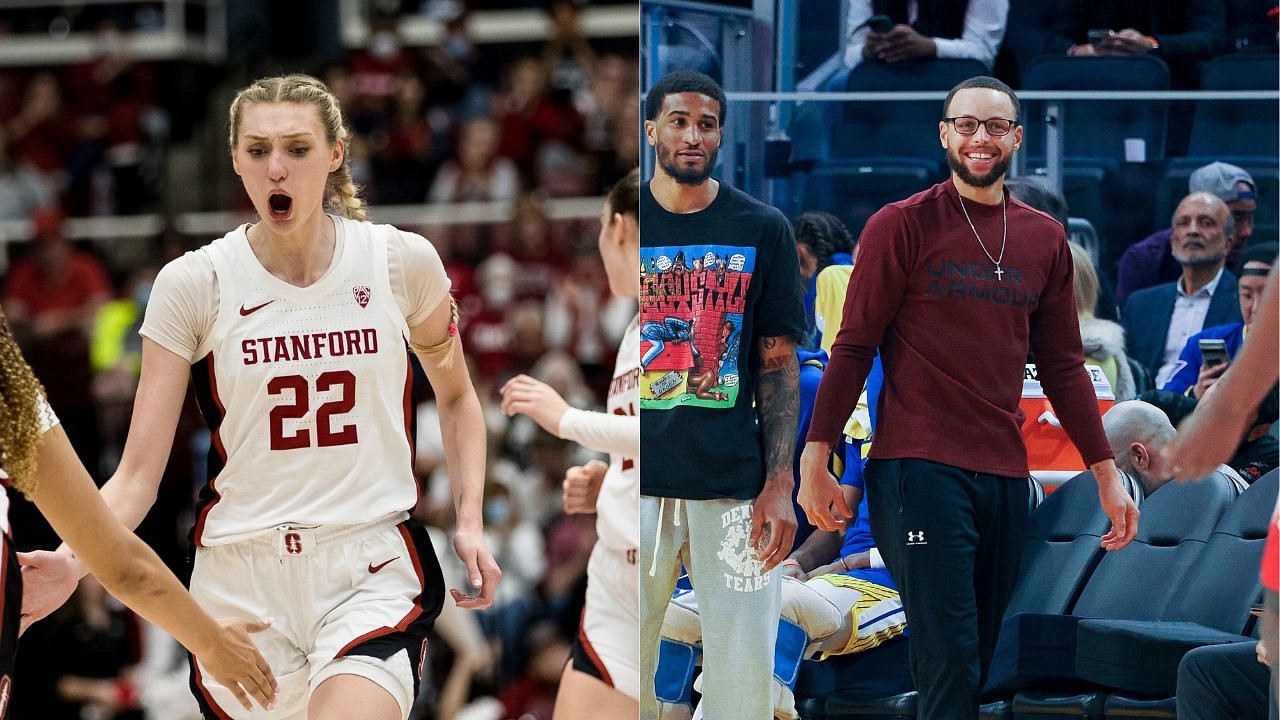 Cam has succeeded in standing out as a fantastic role model. Cam has 109 blocks in 31 games during her junior year of college, helping the Cardinals achieve a 27-4 record. Brink not only scores 14.4 points and 9.5 rebounds a game, but he also blocks 3.5 shots every game.
For the second year in a row, the Pac-12 honored her with the DPOY in honor of her accomplishments.
https://www.instagram.com/p/CpNuXvWuyQY/?utm_source=ig_web_copy_link
Back-to-back DPOY victories are nothing short of outstanding, and Steph agrees.
When Kevin Hart revealed the secret build of Warriors star Stephen Curry, he had mechanical s**t.
Can Cam Brink lead Stanford to the Pac-12 Championship?
The Stanford Cardinals had a 27-4 record at the end of the regular season. They shared the top seed in the conference with the Utah Utes. The Cardinals receive a bye in the first round due to their high seed.
https://www.instagram.com/p/CkBd2p3pIXh/?utm_source=ig_web_copy_link
The Cardinals' opening game of the tournament will depend on the outcome of the contest between eighth-seeded Washington and ninth-seeded Oregon. With how well the Cardinals have performed thus far, there is no doubt that Cam will guide them to the semifinals, where a battle for the championship will ensue. The Cardinals should do well in the tournament since they are 15-3 in their last 18 Pac-12 games.
Read More: Stephen Curry Was Humble when He Texted Kevin Durant Before He Joined the Warriors to Help Them Win More Titles!
Yet everything hinges on the now. Ben Simmons is expected to be fired by the Brooklyn Nets, and Twitter's reactions show no remorse. Let's Go, Cam! Stephen Curry Celebrates God-Sister Cameron Brink's Back-to-Back Pac-12 DPOY Awards