After players lodge "weird" allegations, FIFA refutes World Cup stars' concerns and 'Strange' complaints have apparently been made by World Cup athletes.
According to reports, FIFA has denied applying pigment on World Cup fields after several players complained about having "weird" stains on their uniforms. Some celebrities have questioned whether groundskeepers were unconventionally covering bare fields.
It is a common procedure followed in Golf to maintain the aesthetics of the pitch, but this method is not applied in football fields.
According to FIFA, Qatar is not employing this strategy. They assert, however, that green paint is being used in "warm-up" areas, which are the pitch's edges where substitutes get ready for action.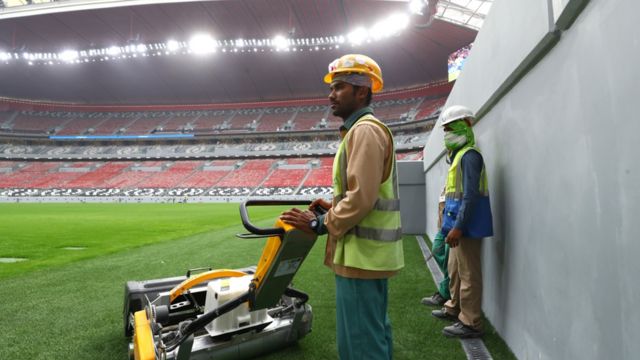 It seems that players have been asking what the stains on their equipment are, as they enter the changing rooms. As reported by the Daily Mail, FIFA has denied painting soccer fields with green paint.
This comes following reports that Senegal and England had reservations about the Al-Bayt Stadium's playing surface before their match on Sunday night. The pitch allegedly wore out rapidly during the World Cup group stages, according to a weekend report from The Times.
The grass appeared to be chopping up during games on television. After games, FIFA sent out recovery teams to assist save parts of the fields.
Brazil is another squad that has voiced concerns about the condition of several of the playing fields. FIFA claims to have everything under control.
As they thrashed African champions Senegal in the round of 16, England was able to set their misgivings about the Al-Bayt field aside. Bukayo Saka, Harry Kane, and Jordan Henderson all scored goals to clinch an amazing 3-0 victory.
England next faces World Champions France this Saturday, in probably the toughest clash in the Qatar World Cup.