Soccer
ESPN+: All In One Sports Streaming Service
It's common to think of ESPN+ as a division of the ESPN Network. But it goes much beyond that. Right now, ESPN Plus is the best option for watching live sports on the ESPN Network. Here are several good reasons to get ESPN+ in 2022.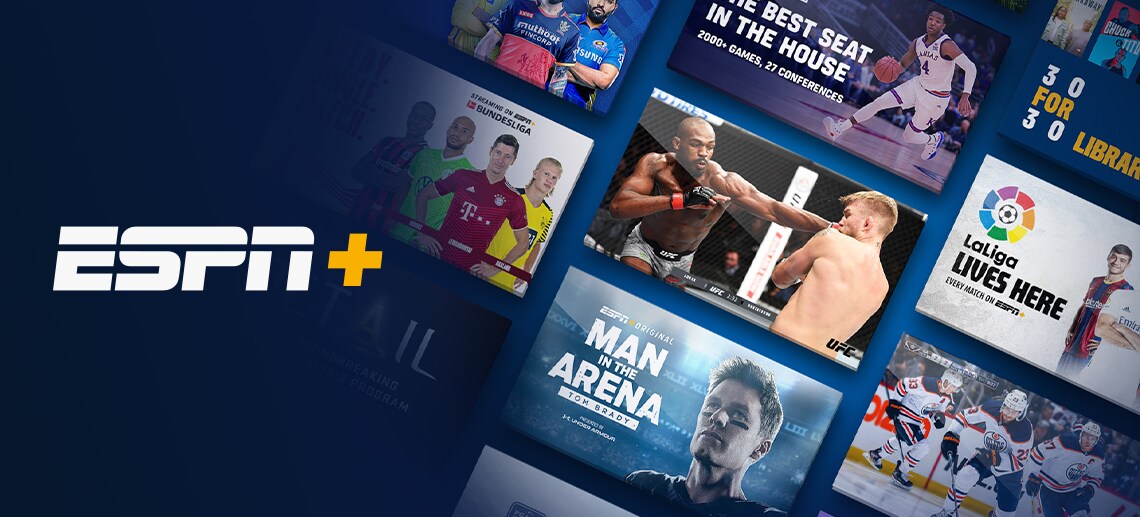 A vast variety of live sports are available on ESPN+, including unparalleled coverage of the NHL, UFC, and several other elite leagues. In addition, there are several documentaries, behind-the-scenes programmes, and shows by your preferred sports personalities. All of it is accessible for a monthly fee.
ESPN, meanwhile, is a different channel that is part of the same network. The majority of Americans receive ESPN as part of their cable package or cord-cutting option like Sling TV. Sling TV's agreement with the network, however, recently came to an end, and unfortunately ESPN is no longer available.
What distinguishes ESPN+ from the traditional ESPN Channel?
ESPN and ESPN+ are considerably different while also being quite similar. Both are now considered must for die-hard sports fans, especially for those who want to take in every moment of the competition.
While ESPN is a conventional channel accessible through cable and satellite, ESPN+ is essentially a sports-focused live-streaming service. Both offer live sports and other sporting-related stuff. The two, however, provide various consumption channels.
Users may purchase an individual membership to ESPN+ or the Disney+ Streaming Bundle, but they can also receive ESPN through their cable company or through cord-cutting alternatives like Sling TV. You must install the ESPN app if you want to watch both simultaneously using just one source.
ESPN vs. ESPN+: What does each offer?
Having been introduced in 2018, ESPN+ has since developed into one of the most accessible and reasonably priced live sports streaming packages. It provides outstanding coverage of a variety of sports, especially if you enjoy hockey or mixed martial arts.
There are numerous international competitions in the NHL, UFC, European soccer, KHL, La Liga, Bundesliga, FA Cup, Carabao Cup, EFL, athletics, and cricket. Most significantly, ESPN+ is the only provider of UFC PPV events.
In contrast, ESPN is the go-to sports channel where viewers can watch matches in a variety of collegiate sports as well as soccer, tennis, golf, hockey, and cricket. Unlike ESPN+, you must use a different source for viewing this channel.
Why is ESPN+ an adequate ESPN Channel Replacement?
A massive repository of live sports, highlights, and other sports-related content can be accessed on ESPN+ with a stand-alone subscription. It's the ideal substitute for the ESPN channel, which airs both planned content and live events
The major cause of this is because the two services' material frequently overlaps. Games from the MLB, MLS, and NHL, for example, are frequently broadcast on both platforms. However, ESPN+ offers a more reasonable way for you to enjoy the live stream at your terms.
The 2020–21 Bundesliga was broadcasted on ESPN and ESPN+.
Another thing to keep in mind is that ESPN+ contains its own exclusivities, like accessibility to UFC Pay-per-View bouts and NHL coverage. ESPN, though, doesn't have anything comparable. If ESPN is a daily component in your life, ESPN+ is the next step up for you.
However, keep in mind that some events and shows are only available on the normal channel and are not available on ESPN+.
ESPN+ is Much Cheaper Than ESPN
In reality, ESPN+ is much less expensive than having ESPN. That's because ESPN comes with cable or cord-cutting services like fuboTV, Sling TV, Hulu Live TV, etc., whereas ESPN+ only costs about $10 per month.
For only $35 to $50, Sling TV provided the cheapest way to stream ESPN. However, because of the termination of its agreement with the network, the service no longer offers the ESPN channel. This implies that paying more than $70 a month for access to ESPN is mandatory.
By totally moving to ESPN+, which is extremely reasonably priced, you might just save those extra bucks. Additionally, it is included in the Disney+ Streaming Bundle, which costs just $13.99 per month and gives you access to Disney+ and Hulu.
Should you purchase ESPN+ In 2022?
The answer is YES! Due to its extensive library of live sporting events and other content focused on the games and players, ESPN+ is unquestionably a worthwhile investment. If you are a die-hard sports fan, you will receive an unrivaled live-streaming service for a very reasonable cost.
ESPN+ is a great alternative if you don't have a subscription to the ESPN channel to view live sports streaming and on-demand content. It will be incredibly practical, reasonably priced, and engaging.