Tonight in Dallas, LeBron James and the Los Angeles Lakers achieved a stunning victory. The Lakers overcame a deficit of as many as 27 points to defeat the dangerous duo of Kyrie Irving and Luka Doncic 111-108.
26 points, 8 rebounds, and a huge chase-down block on Kyrie were all recorded by LeBron. With 30 points, 15 rebounds, and three blocks, Anthony Davis was the catalyst for the attack. Jarred Vanderbilt, however, was the breakout player of the comeback. The former Timberwolves player's outstanding defense and offensive rebounding helped the Lakers go on several runs. He had 15 points, 17 rebounds, and four steals by the game's end.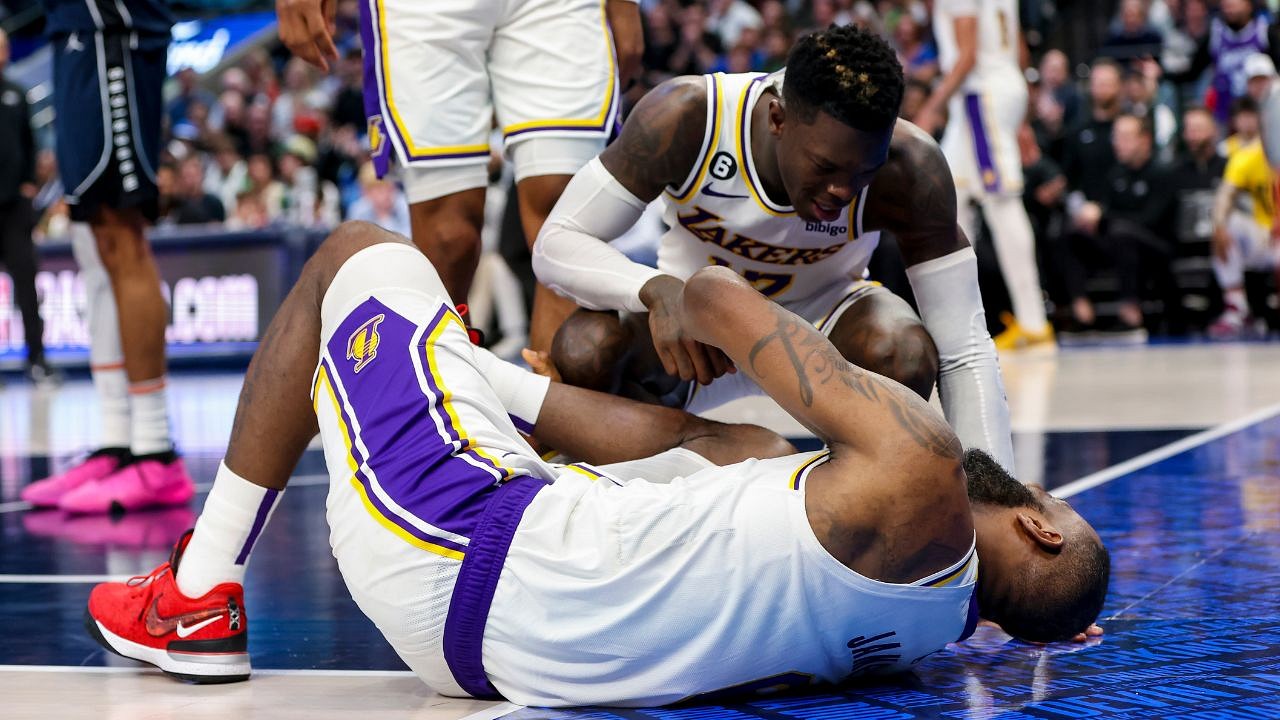 With this victory, the Lakers have advanced two spots and are now the 11th seed. However, they might have jeopardized the rest of their season during the victory.
Read More: "Nikola Jokic Bullied" LeBron James into Choosing Him: Concerned that He Would Be Passed up For Lauri Markkanen, "Joker" Took Measures to Ensure His Selection!
How Badly Was Le Bron James Hurt?
LeBron James appeared to injure his ankle while driving to the basket in the third quarter. Bron claimed to have heard his ankle pop as he sat on the floor. He quickly laced his shoes back up, though, and soon he was leading the charge from the ground.
#Lakers superstar LeBron James said he heard his right ankle "pop" after this play late in the 3rd quarter vs. the #Mavs.

LeBron remained in the game but did have a noticeable limp post-game. We will monitor this at https://t.co/SANDkdLNP0">https://t.co/SANDkdLNP0 pic.twitter.com/bjIW9aWQIb

Sports Injury Central (@SICscore) February 27, 2023
Darvin Ham reported that Bron was "good" and received a medical evaluation following the game.
Darvin Ham says LeBron James is good. He s being evaluated by the team s medical staff currently. He ll be re-evaluated in the morning and then they ll determine his status moving forward.

Jovan Buha (@jovanbuha) February 26, 2023
Videos of Bron leaving the American Airlines Center, however, demonstrated otherwise.
LeBron limps out of AAC with a 27-point comeback win. pic.twitter.com/7jbcN5JgUG

Brad Townsend (@townbrad) February 27, 2023
Even for LeBron James, who is known as an iron man, this does not seem good.
Read More: Dennis Rodman's Audacious Insult to David Stern, "Come Into a Ring with Me," Resulted in A $10,000 Fine from The NBA!
How Costly Can LeBron's Injury Be?
The Lakers are only one spot short of the play-in seed with 20 games remaining in the season. They have a three-game winning streak under their belt. Even though LeBron had little to do with these victories, his mere presence on the court had a significant effect.
James' well-being must be prayed for by the Lakers if they hope to maintain their play-in/playoffs quest.