Without a doubt, John Cena possesses great talent. And one of his skills even helped him keep his job while turning him into a WWE megastar. John Cena is a rapper in addition to being a well-known WWE superstar and a Hollywood celebrity. In actuality, his ailing career was saved by his rapper gimmick in WWE, The Doctor of Thugonomics. John Cena was given the chance to revamp his in-ring persona after Stephanie McMahon discovered his secret gift. Word Life and My Time Is Now, two of his WWE theme songs, were raps performed by the man himself.
My Time Is Now, his most famous entrance theme, was published in 2005.
John Cena raps his theme song with Shaquille O Neal
The excitement from the fans was thunderous each time John Cena entered the ring and his music began to play. The legendary wrestler once sang his theme song alongside a different NBA legend.
Shaquille O'Neal and John Cena were seen rapping their respective theme songs on a recent episode of Carpool Karaoke. Shaq was at the wheel, and Cena was in the passenger seat, spitting rhymes with a sharp mind. Shaquille, on the other hand, contributed by including lyric fillers.
One large man. One much larger man. Sweet, sweet music. @carpoolkaraoke @Shaq pic.twitter.com/qKdas0btwR

John Cena (@JohnCena) August 30, 2017
John Cena Is Set to Return to Raw in March
John Cena shared his excitement about filming the episode with one of the NBA's GOATS on Twitter.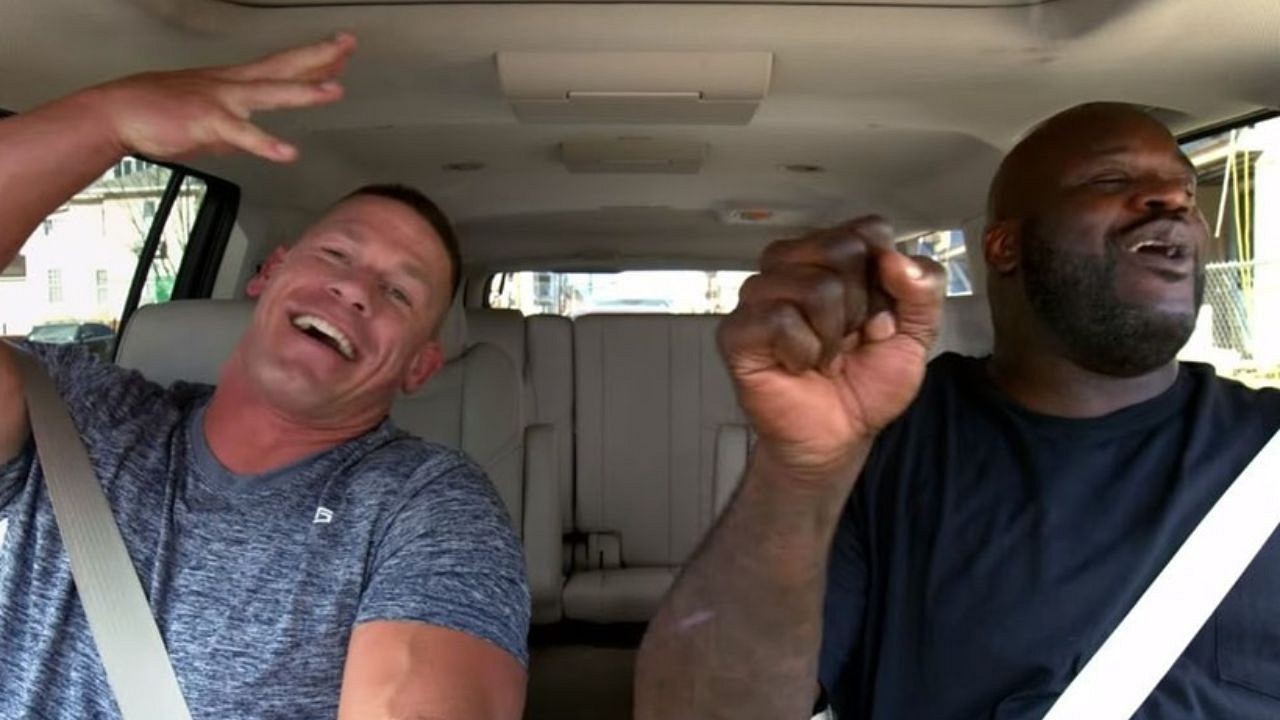 The sixteen-time World Champion and the NBA legend made memories and shared laughs during the episode while jamming out to music in the car and shooting some hoops outside.
Sixteen-time World Champion @JohnCena makes his triumphant return to #WWERaw on MARCH 6 during The Road to #WrestleMania! pic.twitter.com/E0F2xXVC8N

WWE (@WWE) February 20, 2023
John Cena's appearances in WWE have been increasingly rare since he started working as a full-time Hollywood celebrity. The actor-wrestler last appeared in the ring on December 31 when he paired with Kevin Owens and against The Bloodline.
Read More: "Marcus Jordan Is My Forever Valentine": Larsa Pippen Professes Her Love For Michael Jordan's Son Online.
He made another appearance in 2022 at that time. On March 6 on Monday Night Raw, the 45-year-old is scheduled to make his first appearance of 2023.
The promotion heralded his homecoming. Without a doubt, Austin Theory, the opponent John Cena is rumored to face at WrestleMania 39, will come into contact with Cena. It is unclear if their conflict will take off on March 6 and establish the tone for the biggest stage, given that Austin Theory occasionally disparages Cena.