Tonight saw the conclusion of the break following the All-Star weekend and the start of the regular season. But Jayson Tatum and Donovan Mitchell, the Eastern Conference All-Stars, had something to say about Giannis Antetokounmpo, the conference's captain, in a pre-game interview.
In an interview with Mitchell, Tatum, Ja Morant, and Luka Doncic, Malika Andrews of ESPN posed the usual query that any reporter would ponder when two MVP front-runners are housed together.
Jayson Tatum and Donovan Mitchell choose Giannis Antetokounmpo as the best player in the league, while Luka Doncic smiles
Tatum, the 2023 All-Star MVP and the Larry Bird Award winner for the Eastern Conference last season, said without hesitating that Giannis Antetokounmpo is the best player in the game not only because his off-nights are often great but also because he has already won a championship.
Tatum explained to Andrews how Giannis affects both teams in terms of scoring, grabbing rebounds, and how hard he plays. We all have bad nights, but I believe that even on his bad nights, he still manages to score 25 points and grab 15 rebounds rather than 40 and 20. He also succeeded in winning a title.
Giannis may have claimed earlier this season to be the best player in the league, but the Mavericks' star player's smile when Malika posed the question indicated that the Slovenian actually thinks Giannis is the best player in the game right now.
Giannis Antetokounmpo reveals a touching explanation for why he doesn't spend a lot of money in For Me, I Am Cheap!
Read More: "Marcus Jordan Is My Forever Valentine": Larsa Pippen Professes Her Love For Michael Jordan's Son Online.
We can guess what s the priority for these young stars
One thing was quite obvious from this interview: Tatum and Doncic both aspire to greatness. Nonetheless, their current priorities may be different for the two of them.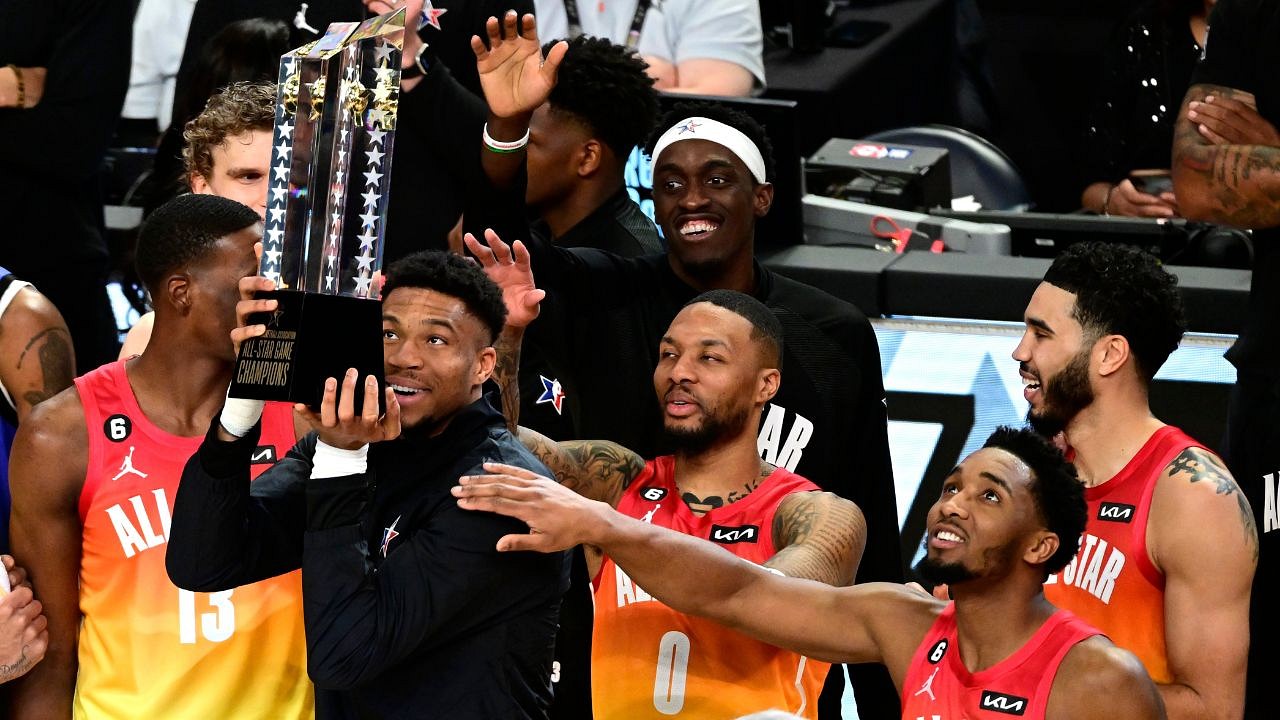 Tatum talking about the title while debating the greatest shows his resolve to win it all after missing out on it last season, but Luka's smile made it plain how desperately he wants to proclaim himself the best in the game.
Who receives what initially is still to be determined. Tatum is now the best player in the NBA club with the best record, averaging over 30 points each game. Doncic is the league's top scorer, averaging nearly 33.3 points each contest.
Giannis is massively affecting both ends of the court with his averages of over 31.8 points and 12.2 rebounds per game, but Nikola Jokic (24.7p/11.5r/10.1a) has continued to dominate the MVP race.