The latest chapter of Kevin Durant's career in Phoenix is off to a successful start. The Slim Reaper will carry out his business in the desert, and tonight he was in fine form.
In 24 minutes, he scored 23 points effectively, making 10 of 15 field goals for the evening. He had already sat out by the time the fourth quarter had reached seven minutes. The only thing Durant had to do was score whenever and anywhere he could.
The two-time winner got off to a strong start by making a three and a block on the same play.
KEVIN DURANT BLOCK AND THREE

HE IS BACK pic.twitter.com/yhsrJeU5QW

Digits Hoops (,) (@Digits3Hoops) March 2, 2023
Read More: Bucks Star Giannis Antetokounmpo Will Donate $1 Million to Mental Health Services in Milwaukee!
Kevin Durant shines like a "Sun" alongside Devin Booker and Chris Paul
Although the headline may seem a bit cheesy, the topic at hand is a new super squad. The fact that Kevin Durant had so many points tonight alone indicates that Phoenix is experiencing a unique moment.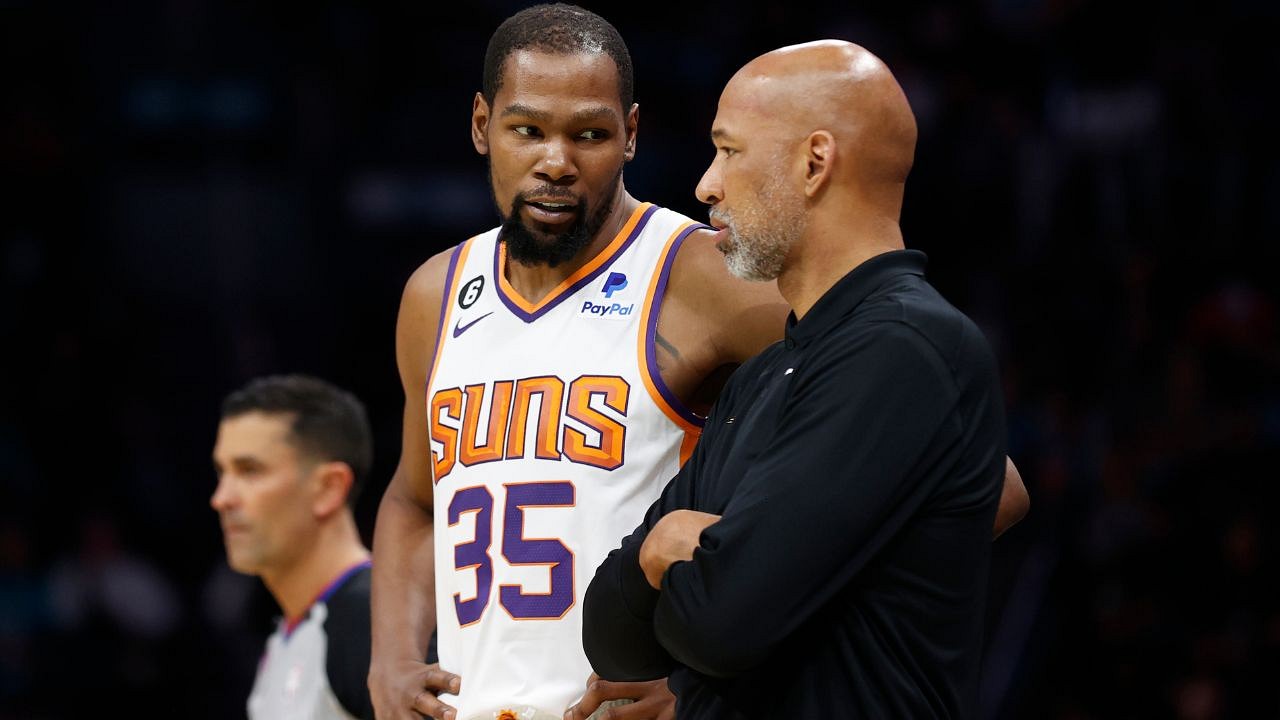 Even if the Suns' opponents tonight were the Charlotte Hornets, their effort should not be discounted.
Just look at the volume of work they produced. And each guy was making a positive contribution to the offensive. Also, their defensive strength was on full display. Durant had two blocks of his own.
Suns tonight:

KD and Book 60 points
CP3 11 assists
Deandre Ayton 15/15 double-double
Held the Hornets to under 100 points

Scary in Phoenix. pic.twitter.com/LlVGy4IdsZ

StatMuse (@statmuse) March 2, 2023
Read More: Lewis Hamilton Suggests He Could Quit Formula One to Star with Tom Cruise in Top Gun Sequel!
Devin Booker Might Finally Unlock the Final Phase of His Potent Game
Devin Booker has consistently been a dangerous player. D-Book, a follower of the mamba, has always been a jump-shot salesman. His flowing play was clearly on display tonight.
Read More: Bucks Star Giannis Antetokounmpo Will Donate $1 Million to Mental Health Services in Milwaukee!
His impressive stat line was 37-7-6. He is a future superstar who will play alongside Kevin Durant. Booker might finally be able to unlock the final part of his devastating game now that the opposing defense is paying additional attention to the 2014 MVP.
The Suns appear promising in their debut. There are no weaknesses in the defenses. That is, however, far too early to predict.